Wow, Go ME! I struck out Again! I feel completely defeated at the moment. Things fell apart pretty Quickly with Mr. It went from meeting my son to over and done in 2 weeks flat.
We hadn't talked in almost a week and while I knew things were done, I needed closure. So this morning I broke the silence and asked:
"How did we go from you saying you wanted to see me last week to not talking this week?"
His reply was this:
"I'm sorry, I wanted to talk to you in person, this week has been screwed up for me, after dealing with my friends issues I've been doing some thinking, and I really am not ready for getting into a complicated relationship right now, I really need to get my head straight and it's not fair to you to keep going on as we have, I know we said we would keep it fun, and we're just dating with no expectations of more now, but I've already thought of what that would be like if it was more... and I'm not ready for that, Asher is a great kid, and your an awesome mom! I'm just not comfortable with being in that picture yet. I'm sorry."
This came as absolutely no surprise besides the major run on sentence, the poor grammar, and incorrect use of "your" instead of "you're", that surprised me from a university graduate. he rest wasn't new news. You see I was dumb enough to date someone who hasn't even been a year out of a decade long relationship. I was dumb enough to think and say that I could do "not serious". I even tried to convince him that I had no expectations at the same time trying to convince myself that I wasn't falling for him head over heels.
I could read into the message looking for subtext and get a million different conclusions, but from what I know of him, he doesn't talk or text in subtext, so I will save myself the anguish and take him at his word. Dating me is too complicated. He's not interested or ready for an instant family, and how can I blame him for that.
I could kick myself for all the dating rules I broke, and there are many, or I can just let go and move on. I'm going to do my best to do the latter. I'm sad, and disappointed, but only because i fooled myself. I walked into that "relationship" blindfolded by my own ignorance, he told me exactly what he could offer, and I pretended that would be enough. I secretly hoped because he seemed so right, that he would see and feel that too, and that the not being ready for a relationship, the not being ready for anything serious would magically melt away.
On the plus side I learned a few things I can add to my belt. I learned that I can't "just date" anyone. I'm an all or nothing kind of girl, which I knew but tried to convince myself otherwise. I learned that 6 weeks-2 months is too soon to bring someone into my world, and that bringing someone in that isn't begging to be let in, is a bad idea. Lastly I learned that not only are there good guys still out there, but that I can pick good guys as well, because even if this didn't go the way I wanted it to, him even taking the time to talk to me today about it, shows me he is who I thought he was, and he's not a bad guy at all, he's just not my guy.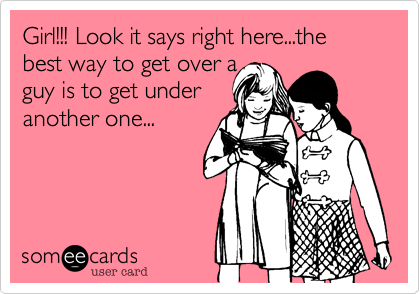 Or not, but you get the point.